Thursday, December 3, 2009
For anyone not on Facebook.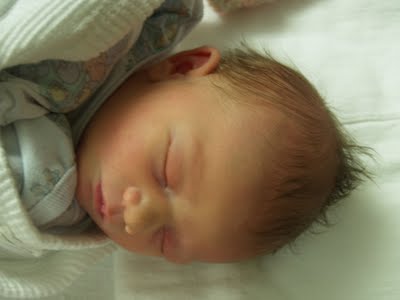 Charlotte Susan Prins
Born November 19, 2009 at 1:32am
6 lbs. 8 oz.
20 inches long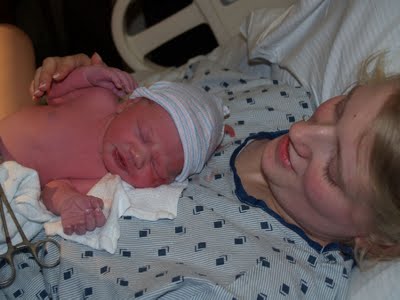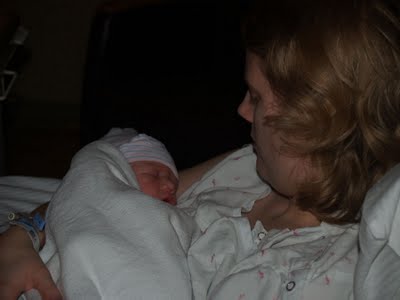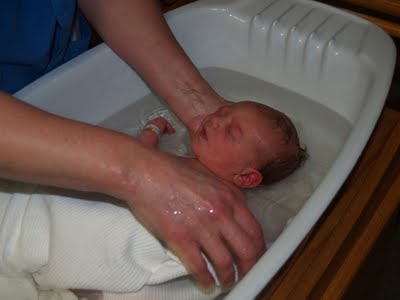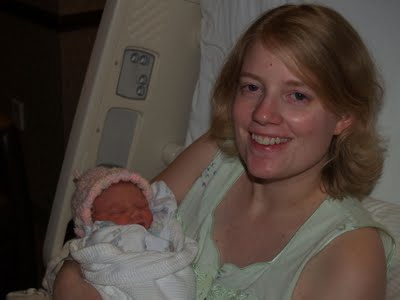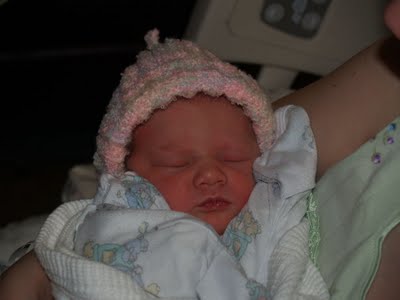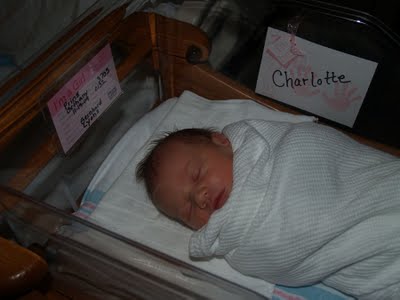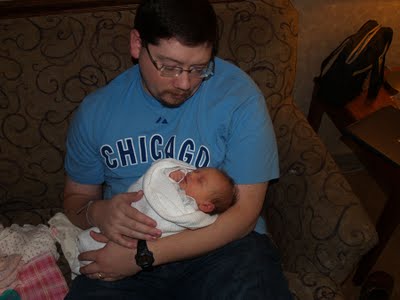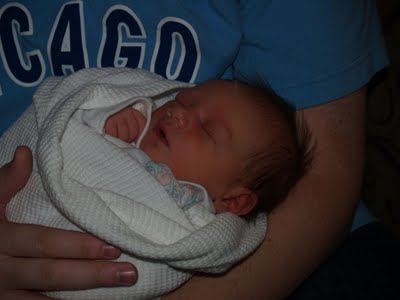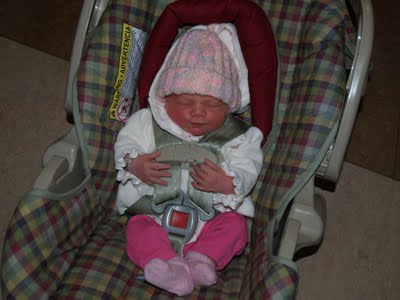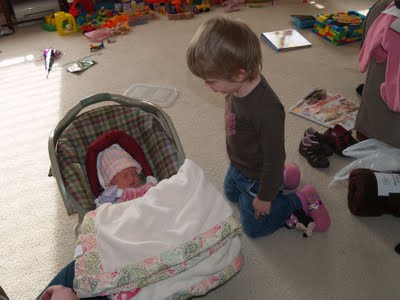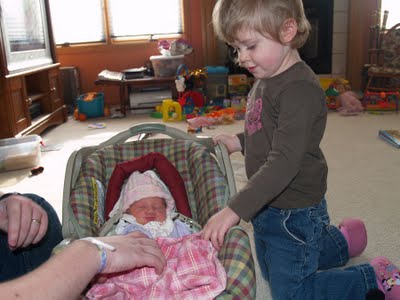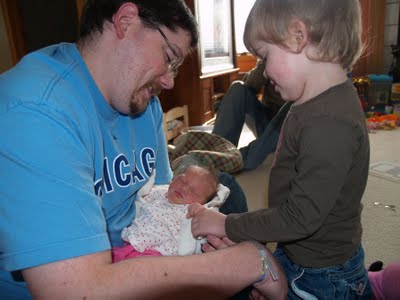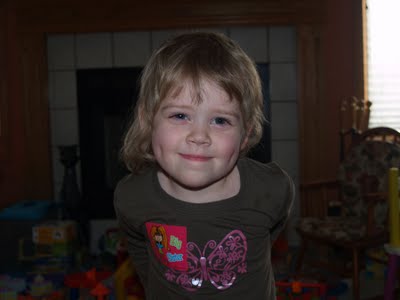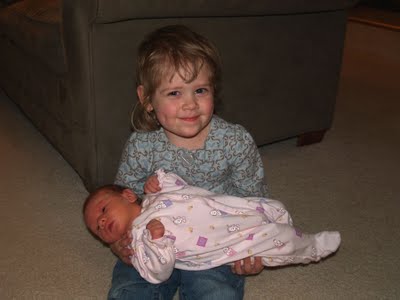 ---
Friday, October 2, 2009
Birthday / Christmas ideas for Josh
SATA Desktop Hard Drive (320 GB or bigger) like
this
or
this
. Unlike most gift ideas, it doesn't matter if I get more than one. :)
This cd
or
this cd
or
this cd
This thingy
and
this thingy
If multiple people wanted to go in together on something,
this would be sweet
.
A rotary tool (Dremel or similar) and accessories would be useful
I'll probably think of some other things later...
---
Thursday, September 3, 2009
Why it's funny.
So Annika named her daughter Ava. We named our daughter Ava. But, right up until the time came to actually name her in the hospital, we were about 95% sure we were going to name her Annika. (And, yes, that did partially come from Annika Sorenstam.)
---
Tuesday, September 1, 2009
Yes, you're seeing this right: two new posts in a week.
Okay, raise your hand if you know why
this
is funny.
---
Wednesday, August 26, 2009
It's Tripologue time! Day One. Marion to Badlands, SD.
This was our first big road trip with Ava, and it was a doozy. When all was said and done there were approximately 7000 more miles on our odometer than when we started. She (and her pregnant mommy, for that matter) did very well, all things considered, though we did have to hear an awful lot of "My Friends Tigger and Pooh" from the backseat DVD player. ;-)
We left the morning of Friday, July 17. We drove past an awful lot of wind turbines between here and the Minnesota border (actually, there were quite a few in Minnesota, as well), and Ava took quite a liking to them. She calls them fans. (So of course I've started to, as well -- that could be embarrassing sometime...)
Our first real stop was the "World's Only Corn Palace" (please don't forget the "world's only" part -- they sure don't) in Mitchell, SD.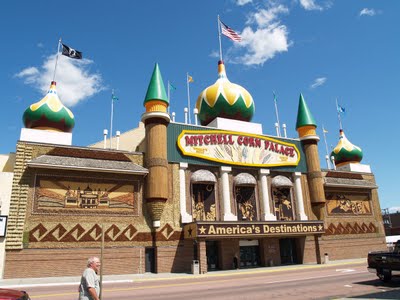 It was a gorgeous sunny day (as it was for most of our trip, actually), all the better for Corn-Palace-viewing.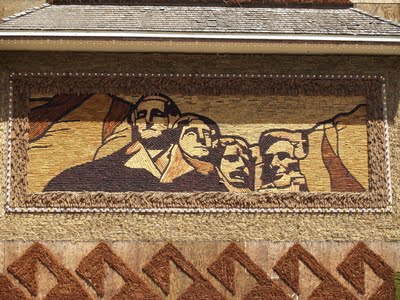 Along the outside they have a bunch of corn murals (impressive, admittedly) of places around America. I went ahead and snapped a couple shots of places on our trip itinerary, Mount Rushmore...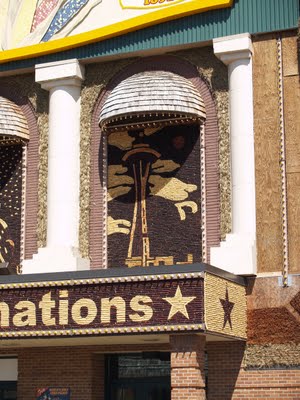 ...and the Space Needle.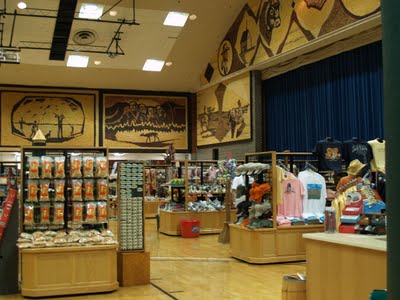 What's inside a Corn Palace, you ask? Basically, a giant gift shop. It's in the middle of a sort of half-arena floor with seats on one side and a stage on the other, so they must move the giftshoppy stuff out for events of some sort at times. (I think there might have even been basketball hoops up on the ceiling, but I can't remember for sure now. The floor does look like it could be lined for something like that.) More corn murals inside as well.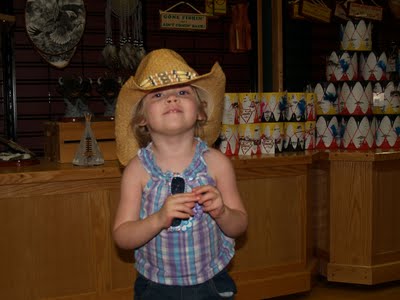 Ava gets her western on.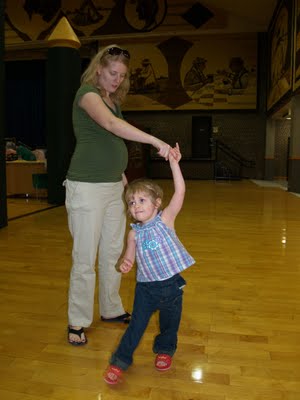 Because it was kind of one giant room (and maybe because of the word "palace" in the name), Ava called it "the ball" (as in where Cinderella went) and wanted to dance with us inside. A lot.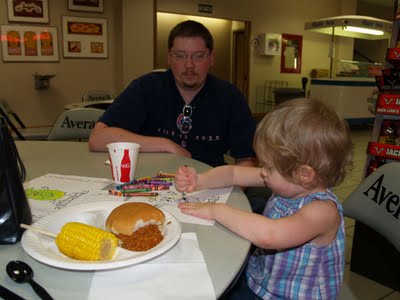 There was a concourse area around the outer edge of the inside, and they were selling meals of BBQ sandwiches, corn on the cob and ice cream. What better to do at the Corn Palace than eat corn? So we did, while Ava colored -- what else? -- more corn.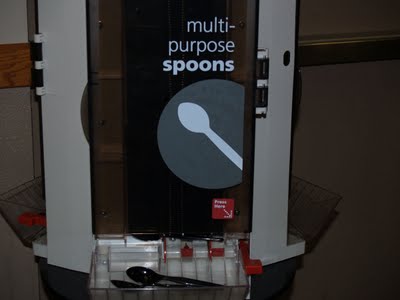 Spoons of the multi-purpose variety are my favorite kind. I just can't stand those spoons that are only good for one thing.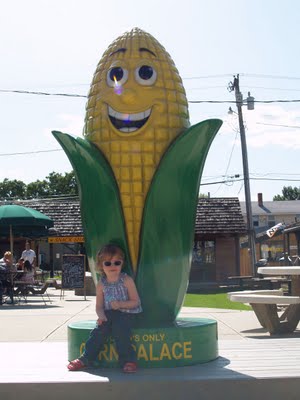 Ava loved this giant ear of corn in the courtyard of a (very touristy) shopping area across the street from the palace and was more than happy to pose in front of it for pictures.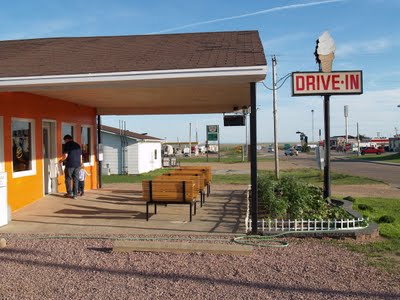 At least some of the time on vacation we like to eat at places we can't eat at home (a.k.a. chains), and the Murdo Drive-In in Murdo, SD qualified. Though it didn't seem to be so much a "drive-in" as a "park-in-the-lot-and-walk-in-and-order." It was all very small-town, and we got something there I've not only never had before, but never even seen anywhere else: a rhubarb shake. Awe. Some.
We were staying at a campground just outside Badlands National Park that night, and after we checked in we had a short bit of time to explore the eastern side of the park.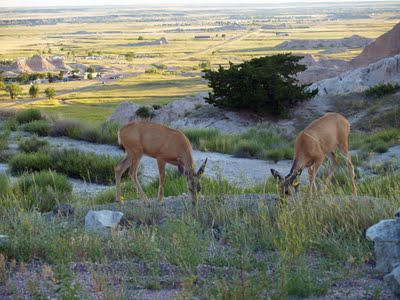 One of the first things we saw in the park was a pair of deer munching right by the side of the road.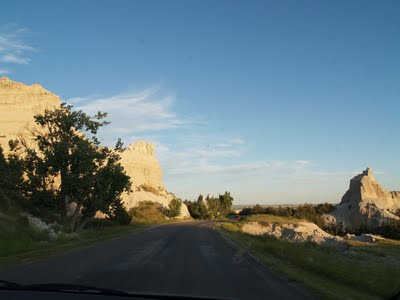 The eastern edge of the park is a really beautiful drive, with more trees than other parts of the park and smaller jagged rock formations scattered all around right next to the road.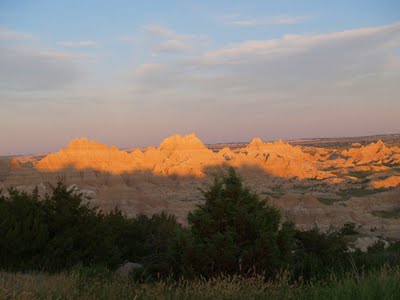 The end of the day creates some interesting shadows in this kind of landscape.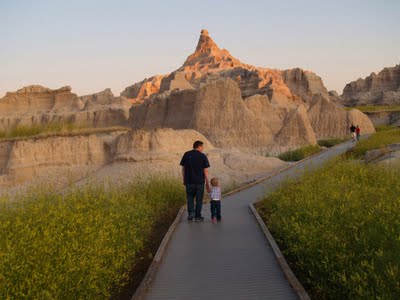 We only had time to take one short boardwalk trail since the sun was going down (this was the Windows Trail).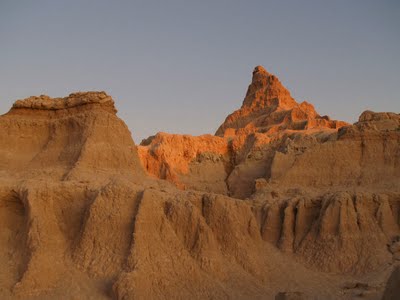 The sunset colors the rocks here gorgeously -- but there's a very short window of time in which it actually happens.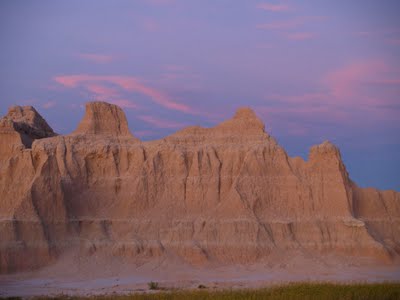 I love the light (or getting to be lack thereof) in this one. It kind of screams moonscape to me, even though the moon probably looks nothing like this.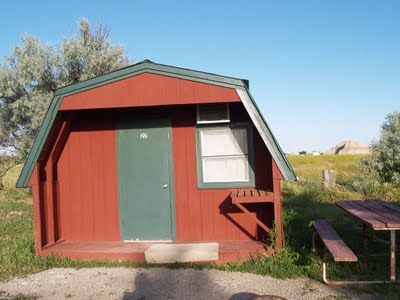 This is the camping cabin we stayed in. It even had air conditioning. :) (This photo was taken the next morning, since there wasn't enough light to take one the night before.)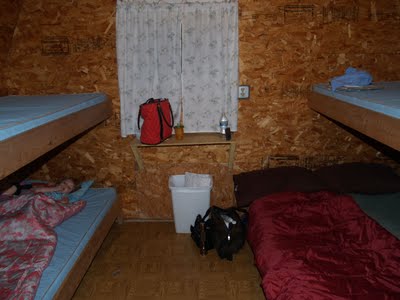 This is what it looked like on the inside. And this is literally pretty much the entire thing.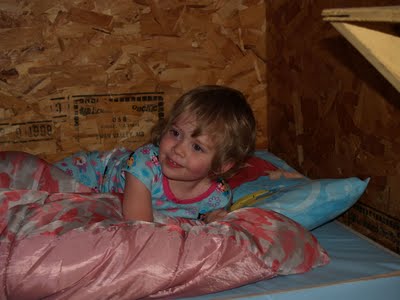 Ava seems to like a little bit of a sleeping adventure. Thank goodness.
---
Tuesday, July 14, 2009
21 weeks.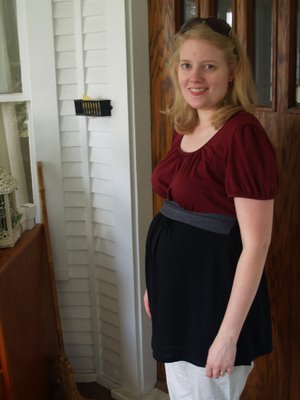 ---
Tuesday, June 30, 2009
The name game. (Or, My Obligatory June Post so the Archvies Are Complete.)
We now have a list of eleven first names (all one gender). When we narrowed each of our gender lists down to five names last time, our current list of eleven and that particular list of five only share one name (and I would say it's far from the front-runner, of which there seems to be one emerging). How our tastes change in only a few years. Interesting.
---
Saturday, May 2, 2009
In lieu of pictures (for now)...
What's Ava up to these days? I'm glad you asked.
Becoming best friends with Minnie Mouse (if she doesn't have her stuffed "Big Minnie" at naptime or bedtime, there's trouble).
Naming what letter various things start with (i.e. "Mommy starts with M"). (Not a lot of interest in the reading thing otherwise.)
Doing puzzles. Over and over again. (Typically of the 24-60-piece type.)

Asking about her new swingset (which we'll hopefully get finished and in the yard this weekend).
Singing. Sunday school songs, Disney songs, nursery rhymes, Christmas songs ("Joy to the World" is the one I've heard most often recently)...
Getting on her rocking horse and belting out "Mary Had a Little Lamb" at the top of her lungs. No, we have no idea why the two go together. :-)
Loving cheese.
Pretending to put her stuffed animals and such (who she calls "friends") to bed under the covers -- she does this several times a day, not usually in her bed, either. All she needs is some type of blanket and a "friend" and she'll do it anywhere.
Pretending to cook things in her "oven," which is actually a shape-sorting barn with a door that opens and closes. Play-Doh "cookies" are a favorite thing to cook, though she also does coins, puzzle pieces or small toys (no casualties -- yet ;-)).
Playing with balls (they're never "balls," by the way, they're always "bouncy balls").
Speaking in fuller sentences and more like a regular person every day.
Making up her own songs, usually with a melody she knows from something else, and with lyrics often babbled from books she has memorized. Occasionally, though, the melody will sound made up, too (at least to us).
And not a general thing, but a cute story: we've sometimes given her "horsey rides" by getting down on our hands and knees and letting her ride on our backs. Yesterday I was wearing a dark-blue and white striped shirt, and she called it a "zebra ride" instead. :-)
---